Click here for a directory of services in and around the Rock area.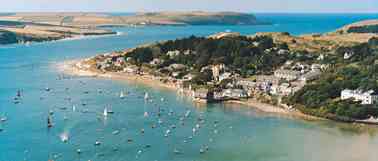 Rock is renowned for its watersports including sailing, waterskiing, windsurfing, canoeing and rowing. Rock Sailing club, which can be seen in the foreground of the above photo, holds organised racing all through the summer. More details can be found within this site. The Camel School of Seamanship gives tuition, including certificated courses, in sailing, powerboating and windsurfing. Camel Ski School provides tender services, facilities, and tuition for all levels of waterskiing competence. Local fishermen offer trips from a couple of hours mackereling to all day wreck and reef fishing. St Enodoc Golf Course, considered to be one of the best in the west of England, has two 18-hole courses. The pro shop is well equipped and the resident professional is available for tuition. Other golf courses are also available within short travelling times.
There is a public path across the golf course for walkers who wish to visit St. Enodoc Church, the resting place of Sir John Betjeman.
A large number of local shops, restaurants, pubs, services and activities are also available, details of which can be found within this site.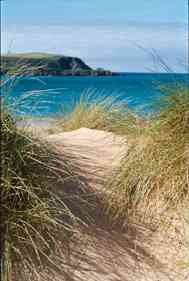 start | home | contact us | local directory | full service directory