OCEANIC ESCAPE BOATS
The Escape Sailboat Company was formed out of a deeply held belief that sailing could become instinctive, intuitive and self-teaching. The textbooks were thrown away and revolutionary new designs were produced to make sailing easier and more fun than ever.
The SimpleRigTM has only one control rope and there's no boom to smack your head. The SmartRigTM instantly adjusts to any size. If the wind comes up, roll away the sail until comfortable. All designs are almost impossible to tip over and are easy to manage in and out of the water.

Happy sailing.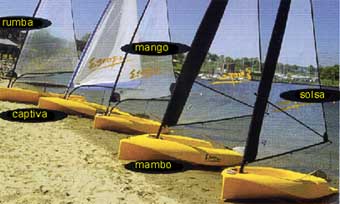 ESCAPE Products
Length
ft./m.
Width
ft./m.
Mast Height
ft./m.
Sail Size
(sq. ft.) ft2./m2.
Hull Weight
lbs./kg.
Max Capacity People
SimpleRigTM Line:
Escape Cha Cha
7.5/2.3
3.8/1.2
14/4.3
42/4
45/20
1 to 2
Escape Solsa
9/2.9
4/1.2
16/4.9
51/4.8
80/36
2
Escape Captiva
11.5/3.6
5/1.6
18/5.6
60/5.7
132/60
3
SmartRigTM Line:
Escape Mango
9/2.8
4/1.2
17/5.3
54/5.2
85/36
2
Escape Captiva
11.5/3.6
5/1.6
19/5.9
62/5.9
135/60
3
Escape Rumba
12.75/3.9
5/1.6
21/6.5
82/2.8
150/68
4
Oceanic Home Page | Escape Boats
| Website Design and Internet Services
start | home | contact us | local directory | full service directory